Let's be clear. 2016 was not a particularly vintage year at the cinema. That being said, I must also confess:
I chose poorly
. There were potentially great films on offer which for one reason or another I didn't get to see:
Hail, Caesar
!,
American Honey
,
Son of Saul
,
Midnight Special
,
I, Daniel Blake
,
Nocturnal Animals, Sing Street, Mother's Day
. I could blame Cineworld and its reluctance to show anything that isn't guaranteed to earn three billions pounds in its opening weekend. I could also point to the happy fact that my cinema going days all but ended in October (at least for the time being). But truth be told, this one is on me. My rationale is, most of those potentially great movies which I neglected can be watched at home without much loss of appreciation. The cinema, however, is for films that are guaranteed to earn three billion pounds in their opening weekend. And so I trudged along to some unimaginable crap over the last twelve months. You name/ridicule it, I saw it, my only consolation being the fact that, thanks [?] to my Cineworld Unlimited card, it wasn't costing me anything extra to see if
Now You See Me 2
or
London Has Fallen
could live up to the originals (they couldn't, which says a lot).
But it wasn't all bad. I saw a few truly great films this year, films that will live long in the memory, films that I can't wait to see again. And even a bad film at the cinema is still a film at the cinema, and thus an excuse to indulge in my new vice: Galaxy Minstrels (or Counters, though the Minstrels come in bigger bags) mixed with salt & sweet popcorn. So without further delay, here are my awards for the Films of 2016.
Best Film Featuring a Man Sleeping Inside a Horse
Alejandro Iñárritu is so hot right now.
The Revenant
was the first film I saw in 2016, and none since has matched it for sheer spectacle. From the fairly tight confines of his previous film
Birdman
, Iñárritu drags his audience out into the vast expanses of the North American wilderness, this time to track Leonardo DiCaprio as he crawls from one misfortune to another.
The Revenant
covers an enormous amount of space, displaying all the beauty and brutality of Nature. Yet precisely because of this the human story gets sort of swallowed up, or should I say, chewed up and spat out (quite literally). Perhaps that is simply part of the narrative, a sort of critique of Enlightenment anthropocentrism and its attendant colonialism. In the battle between Man and Nature, the lesson of
The Revenant
is that Nature will not be subdued without cost. What then of the battle between Man and (Tom Hardy's unnecessarily unintelligible) Man?
The Revenant
certainly has politico-theological aspirations, aiming to say something about loyalty and violence and revenge, but these remained slightly obscure and unconvincing to me. There are flashbacks and visions that didn't make a whole lot of sense at the time, though perhaps they would become clear with a second viewing. But watching
The Revenant
on anything other than a giant cinema screen seems a waste of its talent. This is a made-for-cinema film. In short,
I ain't inclined to watch it anymore. I've done it already
.
Room
isn't the first film to use 'The Mighty Rio Grande' (
it cropped up in 2011's Moneyball
). But it's definitely the best. I didn't know what I was walking into when I walked into
Room
, and after ten minutes I felt like walking out. But this turned out to be a quite brilliant film, weaving philosophical reflection (think Plato's cave allegory) into a well-told story of human suffering, struggle, and hope. It is as if we are getting a first-hand insight into what it might be like for a child to go from womb (room?) to world: the terror, the disbelief, the wonder. It may or may not be a stretch to call this a pro-life film, but it is undoubtedly life-affirming in the most pregnant sense of that term. That is not to say that
Room
is an easy watch. It most certainly is not. But this is a carefully crafted and beautifully acted film that deserves to be watched. A definite highlight of 2016. (If you care to see the scene with 'The Mighty Rio Grande' again,
here it is
.
)
Best Film Featuring an Actor with the Same Name as a Basketball Legend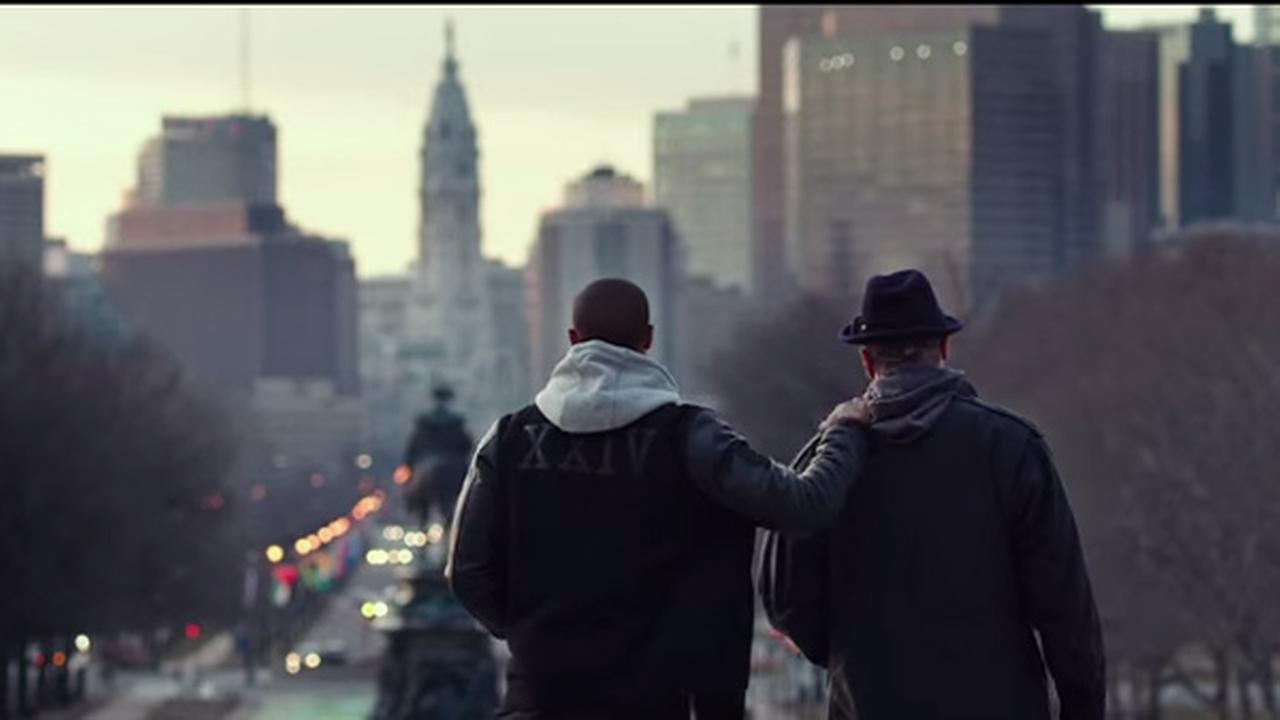 "Where's Wallace at?"
you ask? He's only starring in one of the most enjoyable movies of 2016, is where he's at! Michael (B.) Jordan is not yet a household name in the acting world, but it is surely only a matter of time. He oozes charisma and likability, and carries
Creed
on his considerable torso (it's a long time since that
oversized jacket in the low rises
). There is enough of an ode to the old
Rocky
films to keep this attached to the original series, but it doesn't allow itself to get bogged down by nostalgia or sentiment. This is a film which stands on its own
two feet. It doesn't exactly break any new ground, but it effortlessly retains boxing's status as the sport which makes for the best movies. And I hate boxing.
Best Financial Crash Comedy-Drama
It may have missed a trick by not having Kevin Hargaden explaining sub primes while doing calf stretches on an exercise ball, but The Big Short does a fine job of turning the financial crash of 2008 into an intelligent and entertaining film (consider a companion piece to the more solemn Margin Call.) There is too much bravado and machismo on display (Like The Wolf of Wall Street, it seems to assume that its audience is exclusively male, hence Margot Robbie in a hot tub.) But this is a film with good actors giving good performances, and it tells a story so few really understand (in part, at least, because of the technocratic obscurity which surrounds the crash) in a way that helps us to understand it. Do I now know what a sub prime is? I won't pretend that I do. But when I bump into Margot Robbie at the next Society for the Study of Theology conference I will at the very least know to ask her.
Best Actor
Dalton Trumbo is not a communist. He may be a liar, a screenwriter, and a communist, but he is
not
a porn star.
Trumbo
may not be the best film of 2016. But given what has happened in the western world since its release, it may well be one of the most significant. It tells a history I knew absolutely nothing about: the blacklisting of Hollywood screenwriters (
The Hollywood Ten
) who were accused of being communists, and therefore traitors in America's war against Russia - a war which would not be resolved until
Rocky IV. Trumbo (who wrote the Oscar winning screenplay to the wonderful Roman Holiday, but couldn't receive credit for it because of the blacklist) is played by Bryan Cranston, perhaps one of the funniest actors in Hollywood at the moment. He gives a sharp and compelling performance, helping to bring an important but neglected moment in American history to life. As a friend recently remarked, there is no real Left in America any more. This film explains at least in part why that might be the case. And as much as Hollywood today likes to think of itself as a strange bastion of something that might be called 'leftist values'...well, watch this video and weep. Workers Film lovers of the world, unite! (by watching this movie over Christmas).
.